Body Scrubs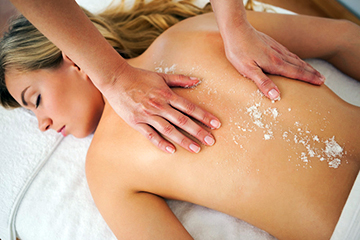 Maintain a healthy looking skin with a luxury Thai Spa body scrub. These nutritious treatments are tailored to suit all skin types, effectively removing dead skin cells to promote softer, smoother and perfect skin. This treatment will help to prepare your skin for the summer sun.
In addition to exfoliation, we can also add on a back, neck and shoulder massage to help relieve tension and leave you feeling invigorated.
Body Conditioners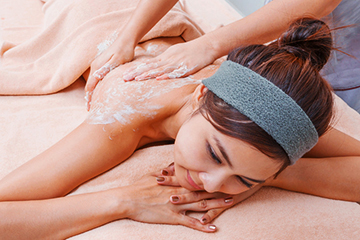 Our high quality Spa body conditioners remove dead skin cells, deep clean the skin's pores then soften, moisturise and polish.
We have a wonderful array of body nourishing recipes created especially to leave you feeling rejuvenated and revitalised, with your skin feeling softer, smoother and refreshed.
This treatment is excellent for both before and after reasonable exposure to the sun.
Facials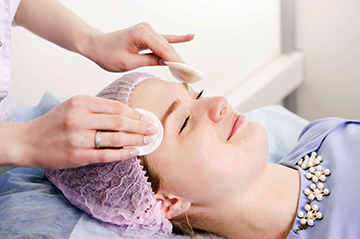 Our standard facial spa treatment includes cleansing, exfoliation, toning and a face massage combined with moisterising followed by a neck and shoulder massage. This complete treatment lasts 60 minutes.
Our Spa Luxury Facial starts with a back massage for 30 minutes and then includes all of the above. The complete treatment lasts a total of 90 minutes.
| | |
| --- | --- |
| 60 minutes | £39 |
| 90 minutes luxury | £59 |
Indian Head Massage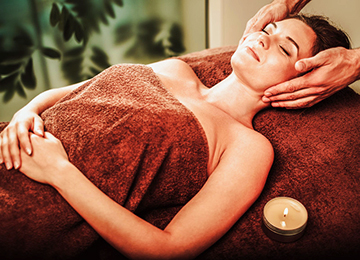 This ancient art of massage is a relaxing holistic treatment which involves acupressure massage on the head, face, neck and shoulders, and aids the relief of chronic neck and shoulder stiffness, eye strain and headaches.
The treatment helps to reduce mental tiredness by improving circulation and re-balancing your body's natural energy.
Hot Stone Therapy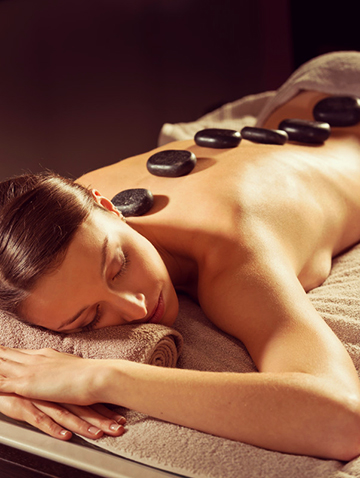 This treatment uses warmed stones placed gently on the energy points of the body. The stones are then used during the oil massage providing a warm relaxing and healing experience.
The hot stones help to expand blood vessels, encouraging the blood flow throughout the body. They have a sedative effect that can relieve chronic pain, reducing stress and promoting a feeling of deep relaxation.
| | |
| --- | --- |
| 60 minutes | £45 |
| 90 minutes | £59 |
Swedish Massage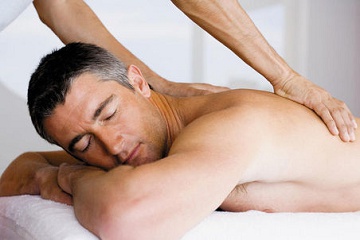 This relaxing treatment involves using special handblended essential oils and are highly effective in enhancing the state of your physical, mental and emotional well being.
| | |
| --- | --- |
| 60 minutes | £39 |
| 90 minutes | £55 |
Aromatherapy Massage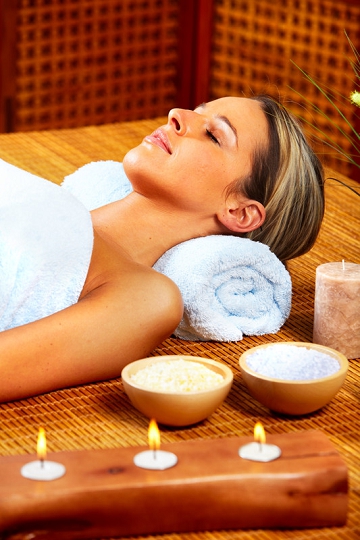 This relaxing treatment involves using special hand-blended essential oils that are highly effective in enhancing the state of your physical, mental and emotional well being. The oils are individually selected to match your mood and this luxurious treatment will ease away the stresses and strains of your everyday living, leaving you in a state of total harmony and bliss.
| | |
| --- | --- |
| 60 minutes | £45 |
| 90 minutes | £55 |
---
Luxury Spa Packages
Your luxury Spa Package can be individually designed to meet your own personal requirements.
For example, the ultimate Spa 'Gold Class' package starts with an initial consultation to confirm that we know exactly what you require, followed by an invigorating full body exfoliation and warm shower.
You will then enjoy a full body oil massage using a high quality product of your choice that will leave your skin in great condition.
This is then followed with a luxurious facial treatment, and your pampering session ends with a cup of 'Matoom' tea (also known as Bael or Wood Apple) made from a tree of my native Thailand and known for its medicinal properties.
A truly wonderful experience. Other packages can be arranged depending on your requirements.
90 minute packages £69, 180 minutes - £150
---